hari nih my baby hani dah 3 tahun.
My wish she will be a good girl & sister. Mummy jugak doakan bb hani agar menjadi seorang muslimah yang taat kepada-Nya dan berjaya di dunia & akhirat..aminnnn
From our
FP
.
Hi auntie, uncle, girls & boys,


Hani nih saya dah 3 tahun daaaaaaaaaaaa.....but kalu ikut term school., saya dah 4 tahun. Mummy sy pun dah confuse....tuh br kami 2 adik beradik., mummy dah serabut...tak lagi Hani & Ichlas mintak adik kat mummy...mau mummy kami jadik hijau.

Since saya dah besar, saya request kat mummy nak gi school. Saya nak gi school ini: http://www.smartreader.com.my/. Coz sy selalu tgk dlm tv n selalu nampak time gi jenjln naik car ngan mummy & daddy. Tuh mummy & daddy dok pening kepala nak korek duit...kekekekeke

saya manja ngan daddy coz daddy suka layan tgk tv, mkn sweet. Kalu ngan mummy dia amat strict...kul 10mlm dah kena tido and x boleh tido depan tv..mesti kena tido bilik sdr. Dah tuh sblm tuh, kena dgr mummy baca stories. Then mummy akan buat quiz test sy reti tak 1-10. yes yg tuh saya pass but ABC saya x betul lagik.

Saya still x suka makan.. Coz bukan apa..saya nak jaga badan agar ramping..x mo jadik mcm mummy yg buncit itew. Saya suka mkn benda bersup esp mummy masak but kekadang saya x lalu mkn, sy akan makan gak coz takut mummy marah plus kecik hati penat2 dia masak.


saya suka gi jenjln. selalu saya tanya mummy..bila nak gi shopping....but yg x best..mummy yg dok shopping tuk dia..kitaorg tgk ja lah..but skrg saya dah pandai demand kat mummy nak pakai baju itu ini or fesyen itu ini. N mummy mmg sporting coz dia akan bg saya pilih baju apa yg sy nak but for sure dia akan tgk price tag jugak.

saya suka tgk mummy make-up. But tgk mood mummy nak make up or not..kalu mummy make up cantik sgt....that why sy selalu curik mummy yer makeup beg.. Sy suka pakai itew eyeliner, blusher and tik(lipstick). Kekadang sy jugak akan makeupkan adik saya..Ichlas.Kawan layan ja..


Saya skrg suka bertanya itew ini..cz sy nak belajar...byk benda yg saya belajar dr bertanya. saya akan bertanya kat mummy & daddy bertalu-talu sampai diaorg x larat nak layan. Selagi diaorg x jawab sy akan tanya plus sy suka menyampuk bertanya bila mummy & daddy dok tgh bersembang..angin ja mummy & daddy..nampak ja asap keluar dr telinga mummy.

Itu saja sy nak citer bila saya dah 3 tahun nih......byk benda lagik pasai saya...but sy lenguh tgn nak taip nih..plus dsy taip nih time mummy x ada.sy curik2 guna lappy mummy..iyolah sy mana ada lappy...

Sy tunggu mummy & daddy nak buat x party tuk sy but dgr2 citer mummy nak belanja mkn sy n nenek(bb sitter). Plus dgr citer , acik dok pujuk mummy balik Penang n Daddy ada suggest buat party sy kat Penang. Dioarg nak suruk tok wan belanja.pandai btul mummy.

Sy ada mintak basikal kat mummy & daddy but tak tau lah diaorg nak bg ker tak ? sy juga mintak umah br with bilik sy sdr with design princess. Itu pun x tau bila mummy nak bg...But apa2 pun......sy bersyukur dah 3 tahun sy kat dunia nih..Sian kat mummy yg dulu pulun push sy but saya merasalah mkn pizza,mkn satay n gi jenjln pesta pulau pinanh before sy keluar. That sampai hajat sy tuh br saya dgn rela hati keluar on 19 Dec 2005 pada kul 10.19pagi.

Meh wish saya yer!!!!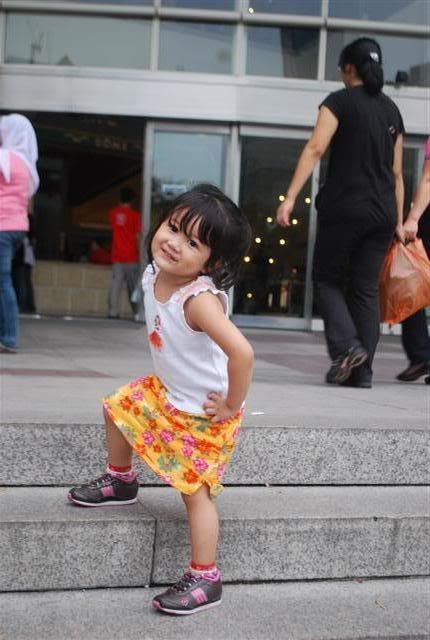 luv,
Nur Iswahani Izzati