Hi all....
Dah lama nak share menda nih....but rasanya ramai dah join kan?? Kan? Kan?
Join apa tuh?
ala...Korang dah join ker ChurpChurp ?
Kalu dah join..baguih..marai kita memeriahkan ChurpChurp..
kalu belum ..Jom la ramai-ramai kita join.
Apa tuh ChurpChurp?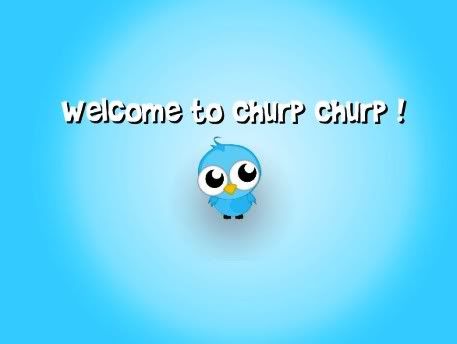 ChurpChurp is the social media yg mengumpulkan pelbagai pengguna facebook, Twitter dan jugak blog serta pelbagai partner pengiklanan dalam satu platform.
Di platform ini, pelbagai produk/servis baru yang diperkenalkan dan anda boleh menghebahkan di twitter, facebook dan jugak blog. Anda jugak boleh berjumpa dengan kenalan-kenalan cyber yang baru.
Ada beberapa reason yang membuatkan saya tertarik tuk join ChurpChurp nih:
1) Boleh menjanakan pendapatan dengan membuat tugasan-tugasan yang diberikan ChurpChurp.
Ada 2 jenis assignment:
a. Scheduled (User-generated) Churps
Assignment akan diberitahu melalui email. Anda hanya perlu karang post anda menggunakan keywords yang diberikan. Tweets anda akan dikeluarkan mengikut jadual dan slps itu trus dapat earning. Senang kan???
b. Seeding Churps
Assignment nih akan diberi melalui email dan anda perlu karang post pada platform yang diminta. Email akan brief angles mana yg kamu perlu work out tuk post tuh.
See...for me sa beginner. With 3 easy peasy steps....
i earned RM 0.88
...hahahahahahaha
2) Dapat berkenalan dengan Churper-Churper yang lain. Byk aktiviti akan dibuat. Aktiviti sblm nih ialah:
Pic courtesy frm ChurpChurp website


dan 1001 keistimewaan menanti anda.

Jadik apa tunggu lagik


mendaftarlah dengan ChurpChurp dan selamat menjana pendapatan.
Jumpa di sana!!!!!!!!!!!!!